As a trucking company administrative professional, it's critical that you stay on top of the required DOT inspection. Even though you're busy, keeping current on your DOT inspections ensures that your business operations can continue as planned. We offer thorough inspections that are easy to schedule. Read on to learn what to expect and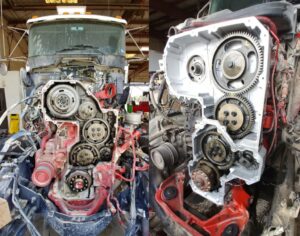 what's included in our commercial and federal DOT inspection services.
What to Expect During a DOT Inspection
During a DOT inspection, we look at every part of the truck to ensure that it's appropriately working for environmental and safety reasons. We offer this service as a certified DOT provider, and we provide it for all makes and models of trucks. For your convenience, we track your inspection's expiration date. We'll give you a heads-up when it's time to renew your certification and schedule another inspection. The primary areas of a truck we examine during a DOT inspection are as follows.
Lights
Trucks have many different lights and lamps, and they will all be examined during a DOT inspection. The head and tail lamps must be in working order. We also inspect the turn signal lamps on the front and rear ends of the truck. If the truck is more than 80 inches wide, it must have front and rear cab lights. We verify the proper functioning of all these safety lights.
For stop and tail lamps, the number your truck must have varies based on its year of manufacture. If the truck was built after 1959, it must have two stop lamps and two tail lamps. If it was produced before 1959, it's only required to have one of each. If your truck was manufactured in 1948 or later, it must also have a beam indicator. This is located in your truck's cab, and it tells you whether your low or high beams are engaged.
Visibility
Our inspector will look at parts of your truck that affect your visibility while driving. The windshield wiper's blades must be free of cracks, and the arms must be in good working order. Your rearview and side mirrors must be free of defects so that you can see behind the truck.
Stopping
Your truck's braking system is a critical safety feature. Our inspector will check them for wear and cracks. Your brakes will be inspected to make sure they're working properly. Your tires' tread depth will be measured, and the side walls will be examined for stress.
Exhaust System
If your truck was made after 1967, its exhaust system will be tested. This test involves measuring the amounts of non-methane organic gases, formaldehyde, nitrogen oxide, carbon monoxide, and particulate matter emitted from the tailpipe. The inspector also checks for exhaust system leaks.
Other Parts
Our inspector will verify that each seat belt in your truck is in working order. The horn should work, and the steering wheel should quickly move wheels. Your window tint and fuel tank cap will be checked. We also verify the motor, serial, and VIN details.