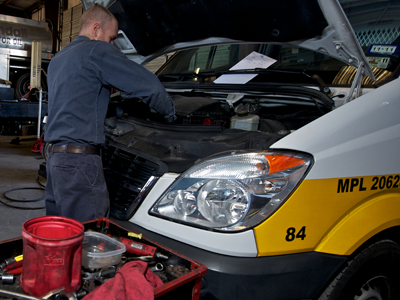 Managing your fleet is a big job. But, it doesn't have to be difficult. Ferguson Truck Center provides preventative commercial truck maintenance to fit your needs. Whether managed by mileage or calendar, we help make your big job easy to manage.
Service to suit your needs
Ferguson Truck Center has a variety of standard PM (preventative maintenance) programs to help you keep your fleet running smoothly. We can also work with standardized company plans to keep you in compliance with corporate mandates.
Periodic Maintenance Options
OPTION A: A comprehensive bumper-to-bumper dry inspection.
OPTION B: A full inspection that goes beyond the dry inspection to include checking and changing fluids where appropriate.
What to Expect from Preventative Commercial Truck Maintenance
Preventative commercial truck maintenance can make your vehicle last longer and function better throughout the time that you own it. Some types of commercial truck maintenance can even prevent you from getting into an accident by helping you stop sooner or making you more visible to other drivers. In a basic preventative maintenance inspection, there are several things that the inspector will look at.
Tire Tread
The treat on your tires is an important part of your vehicle. Tires that don't have very much tread left on them are more prone to hydroplaning, stopping problems, and skidding on the road. They're also more prone to blowouts and other dangerous events.
Tires are also inspected for cuts and tears, pressure, and mismatched tires. Wheels are inspected to ensure that there aren't cracks in the wheels and that the lugs are all present and properly tightened.
Oil Changes
Your oil must be changed at the manufacturer's scheduled intervals to ensure that your engine is well lubricated. During a standard oil change, there are several things that are also inspected and changed as needed. For instance, your filter often needs replacement when your oil is changed. The technician will also inspect the vehicle for oil leaks, and the coolant, transmission fluid, differential fluid, brake fluid, windshield washer, and power steering fluid are also inspected to ensure that they're at the right levels and are clean and have the right viscosity.
Under-Vehicle Inspection
There are several components under the vehicle that should be maintained, too. For instance, the suspension and steering should be checked. To make sure that your drivetrain will be in working order for the next several thousand miles, the u-joints and slip yokes are also inspected for routine commercial truck maintenance.
Other Items to Inspect
You or a technician should also regularly inspect the vehicle for any physical damage to the body to ensure that all of the external components are still in working order. Along with that, all of the lights should be routinely checked to ensure that there isn't any physical damage and that the bulbs are working. Finally, the license plate should be inspected to ensure that it's visible and has everything that it needs to comply with state laws.
See the Full Ferguson Inspection List
The Impact of Regular Preventative Commercial Truck Maintenance
Commercial truck fleets are the backbone of many industries, especially in a bustling city like Houston, TX. Keeping these fleets running smoothly and efficiently is a top priority for any business owner and one of the most effective ways to ensure this is through regular preventative maintenance. At Ferguson Truck Center, preventive maintenance is not just a suggestion but necessary for your commercial truck fleet's long-term performance and efficiency.
Preventative maintenance involves regularly scheduled check-ups and minor repairs to catch and resolve potential problems before they become major. When performed consistently, preventative maintenance can have several significant impacts on your commercial truck fleet.
Extended Lifespan: Like any other vehicle, commercial trucks are subject to wear and tear, especially considering their heavy loads and long distances. Regular maintenance checks allow for early detection of potential issues, allowing repairs to be made before more severe damage occurs. This extends the overall lifespan of the trucks, ensuring you get the maximum return on your investment.
Increased Efficiency: Well-maintained vehicles perform better. The trucks can run optimally by regularly checking and replacing filters, fluids, and other components. This not only saves fuel costs but also contributes to the overall productivity of the fleet.
Reduced Downtime: Unexpected breakdowns can cause significant disruptions to your operations. Regular preventative maintenance can catch potential problems before they cause pollution, significantly reducing downtime and ensuring the continuous operation of your business.
Other impacts of regular preventive commercial truck maintenance
Safety: Regular maintenance checks also ensure the safety of the drivers and other road users. From brake systems to lights and signals, preventative maintenance ensures all vehicle parts are working correctly, reducing the risk of accidents.
Cost Savings: While there's an upfront cost associated with preventative maintenance, it's significantly less than the cost of major repairs or replacing an entire truck. Regular maintenance is an investment that leads to long-term savings.
At Ferguson Truck Center in Houston, TX, we offer comprehensive preventative maintenance programs tailored to your needs. Our experienced technicians use state-of-the-art diagnostic tools to ensure that your fleet is in top condition, ensuring you peace of mind, increased efficiency, and cost savings. Regular maintenance is the key to maintaining a robust and reliable commercial truck fleet.
How can we help you?
Tell us a little more about your fleet maintenance or commercial truck maintenance needs. We'll follow up with information on how you can make managing your fleet easy as calling Ferguson Truck Center.