Onsite Mobile Truck Repair: We Bring Service To You
Reduce down time by keeping your equipment up and running. Ferguson Truck Center Onsite Truck Repair gets the job done. You call. We come. We perform repairs and common maintenance in your lot saving money and cutting down-time.
Ferguson Onsite Mobile Truck Repair Means Your Lot Is Our Garage
We understand the value of keeping your fleet rolling, therefore Ferguson's trucks arrive equipped to get the job done, because carrying state-of-the-art technology and stocked with parts for standard repairs helps us serve you more efficiently. Now, if a repair cannot be completed on site, we can arrange for towing to our location.
Why Choose Ferguson Mobile On-Site Repair?
We offer Mobile on-site repair to give you two important benefits:
• Uptime Optimization
Forget time wasted getting your equipment to us. We come to you, saving time. After all, if time is money, down time is even more expensive. Mobile on-site truck repair can get you rolling faster.
• Trustworthy Technicians
You know and trust Ferguson Truck Center mechanics. What's better, because they know your truck, our mechanics uniquely qualified to get your equipment back in service promptly.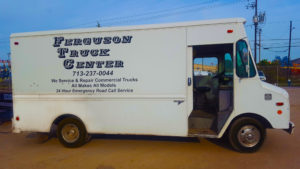 If you are driving along the highway and your truck breaks down, you don't want to be stuck there for long. You want to get back on the road as soon as possible. You need a high-quality mobile repair team to give you a hand. You take every possible step to keep your truck in top shape, but the unexpected could happen at the worst possible time. Contacting our Houston Truck Repair team is the smart move for your bottom line.
You will know you are in good hands when the right team has your back. Explore the benefits of using an emergency mobile truck repair service. The right company will keep your needs in mind each step of the way and look for ways to prevent future problems from taking place.
Roadside Repairs
You want to know your truck runs well at all times. If you get stuck on the side of the road, you need a repair team that has your goals and needs in mind from start to finish. We come to you no matter where you are, and we provide the services you need to get you back on the road in no time. We do welding, brake repair and more. Our goal is to get your truck running well enough to get to a repair shop.
We also come to your garage to perform a variety of repair services, such as light replacements and oil changes. Getting your truck in top shape has never been this easy. Most repairs don't require you to visit our service location. Our mobile repair trucks have all the tools we need to get you back up and running before you know it. We remain dedicated to providing roadside service that puts your worries to rest.
Why You Should Pick Us
You have many roadside assistant companies from which to choose, so you are probably wondering why you should pick us instead of going with the competition. We are a team of experts who love what we do. We stand behind each repair job on which we work and strive to maintain the highest possible standards.
No matter if we are doing a simple brake job or replacing a transmission, we won't let you down. We are insured and only hire the top experts in our field. When you want us to get your truck running like it was new, we have your back and put your needs first.
Getting Started
It's always better to repair your truck before you experience issues on the side of the road. Ferguson Truck Repair is committed to being the top truck repair company in Houston. We have the tools, experience and dedication required to give you results you won't get anywhere else on the planet, and we do what it takes to prove calling us was the right move.
Ferguson Truck Repair is excited to show you what they can do. We are confident you will be happy with the outcome. Our Houston Truck Repair team does what it takes to put a smile on your face, ensuring you have no issues by the time we do the job. Your mobile truck repair team knows how to repair your truck the right way.
Not all mobile truck repair companies are the same, so don't pick the first one you find. Read reviews and ensure the company you pick has your needs and bottom line in mind. If you are ready to get your truck running in top shape, Ferguson Mobile is the perfect company.
On-Site Mobile Truck Repair is like a house call for your equipment.
Breakdowns and on-going service are just facts of life when managing a fleet. As a result, Ferguson's Mobile On-Site Truck Repairs help make them easier on your schedule and budget.
---
Want to Set Up an Account?
Please fill out the form below and we will contact you with the next steps: