Onsite Mobile Truck Repair: We Bring Service To You
Reduce downtime by keeping your equipment up and running. Ferguson Truck Center Onsite mobile truck repair Conroe gets the job done. You call. We come. We perform repairs and common maintenance in your lot saving money and cutting down-time.
Ferguson Onsite Mobile Truck Repair Means Your Lot Is Our Garage
We understand the value of keeping your fleet rolling, therefore Ferguson's Onsite Mobile Repair trucks arrive equipped to get the job done, because carrying state-of-the-art technology and stocked with parts for standard repairs helps us serve you more efficiently. Now, if a repair cannot be completed on site, we can arrange for towing to our location.
Why Choose Ferguson Mobile Truck Repair Conroe?
We offer Mobile on-site truck repair to give you two important benefits:
• Uptime Optimization
Forget time wasted getting your equipment to us. We come to you, saving time. After all, if time is money, down time is even more expensive. Mobile on-site truck repair can get you rolling faster.
• Trustworthy Technicians
You know and trust Ferguson Truck Center mechanics. What's better, because they know your truck, our mechanics uniquely qualified to get your equipment back in service promptly.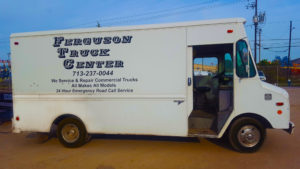 Mobile truck repair Conroe is like a house call for your equipment.
Breakdowns and on-going service are just facts of life when managing a fleet. As a result, Ferguson's Mobile On-Site Truck Repairs help make them easier on your schedule and budget.
---
Want to Set Up an Account?
Please fill out the form below and we will contact you with the next steps: