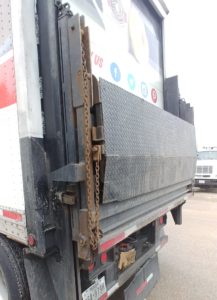 With so many moving parts, regular maintenance helps you avoid liftgate repair issues. It depends on Ferguson Truck Center for complete Cypress liftgate repair and service. We install, maintain, refinish and repair every make and model of the liftgate. From cut-away trucks, box trucks, or tractor-trailers, Ferguson Truck Center provides repair and maintenance services for your liftgate.
Cypress Liftgate Repair Service Experts
From installation to refinishing and everything in between, Ferguson Truck Center technicians are experts in the diagnosis of liftgate structural, hydraulic, and electrical issues. Like every other service, Ferguson Truck Center liftgate service addresses issues correctly the first time to keep you rolling.
Ferguson Truck Center Cypress Liftgate Repair Service
Liftgate cylinder repair
Liftgate fluid changes
Liftgate spring replacements
Liftgate deck repair & adjustments
Liftgate pump repair
Liftgate motor repair
Liftgate switch repair
Liftgate structure issues
Liftgate rust & corrosion
Liftgate welding
Custom liftgate fabrication
Liftgate repair service experts are qualified professionals who inspect, repair and maintain this area on any heavy-duty truck. Commercial trucks need a liftgate in order to safely load and unload cargo. The performance of the liftgate can affect the quality of the work performed, and in some cases, the profits earned from each job. A malfunctioning lift gate also poses a serious job hazard, which can make the business liable for any injuries or damaged property as a result of a liftgate failure.
Cypress Liftgate Repair Service, Overview
Every truck that has a liftgate will be loading and unloading various types of materials on and off the truck. The liftgate is the safest method for performing these actions because it is powered by a hydraulic system that raises and lowers the heavy gate with an electric switch, which is located on the side of the exterior of the truck. The typical liftgate is capable of handling loads that weigh thousands of pounds.
During the work life of any truck, these liftgates will be subject to the stress and strain caused by repeatedly lifting heavy loads. There is a normal level of maintenance that can be anticipated, but many truck owners fail to keep this maintenance schedule properly. This can contribute to a breakdown of the liftgate, which carries risks to the operator. The loss of revenue for the business is just one of the risks faced by a company that has a truck with a malfunctioning liftgate; it could also seriously injure the driver and work crew.
Liftgate Repair Benefits
Properly maintain your liftgate in order to avoid the dangers that come from a malfunctioning liftgate. Maintenance and repairs should be performed by only qualified professionals with the experience and tools necessary to get the work done safely. The benefits of a good liftgate repair service is difficult to quantify because of the value of preventing a disaster from occurring in the first place. Our job is to keep each liftgate functioning properly to avoid any work hazards that could result from a breakdown or malfunction.
There are many signs that the liftgate needs repair or maintenance work, and our team is familiar with all of these issues. For example, there might be an unusual amount of lurching as the gate rises and lowers. There might be noises that seem to indicate a problem. Fluid leaks are another warning sign, and the performance of the gate itself should also be monitored. Liftgates should move up and down smoothly without jerking or stopping. If the gate is unusually slow, this could also indicate an underlying problem.
Liftgate Professionals
Our liftgate repair team understands how to identify the common signs of a liftgate problem. Catching an issue early is important for preventing the worst-case scenario from manifesting. There are cases where the original liftgate was improperly installed. Our service team can accurately diagnose and repair various issues with your hydraulic liftgate as well as the articulating electrical components of the system. Contact us today for a service estimate.
Liftgate Preventative Maintenance
Beat repairs to the punch. Keep your liftgate operating safely and efficiently with regularly scheduled maintenance. Reduce downtime and road calls with liftgate preventative maintenance from Ferguson Truck Center. We can develop an inspection schedule about your specific needs, providing service before breakdowns happen.