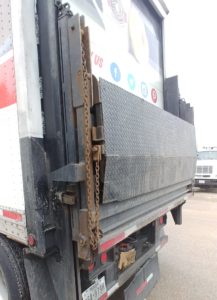 Ensure your liftgate remains in peak condition with Ferguson Truck Center's expert Porter Liftgate repair services. Our highly trained technicians excel in installing, upkeep, refinishing, and fixing liftgates of all makes and models. From cut-away trucks to box trucks and tractor-trailers, count on Ferguson Truck Center as your reliable source for top-notch liftgate services.
Liftgate Repair Service Experts
At Ferguson Truck Center, our technicians are skilled in diagnosing and solving liftgate problems, including structural, hydraulic, and electrical issues. From installation to refinishing, we have you covered. Trust our experts to address these issues accurately the first time, ensuring you can keep moving forward smoothly.
Ferguson Truck Center Liftgate Repair Service
Liftgate cylinder repair
Liftgate fluid changes
Liftgate spring replacements
Liftgate deck repair & adjustments
Liftgate pump repair
Liftgate motor repair
Liftgate switch repair
Liftgate structure issues
Liftgate rust & corrosion
Liftgate welding
Custom liftgate fabrication
Discover the expertise of liftgate repair service professionals who specialize in inspecting, repairing, and maintaining this crucial component of heavy-duty trucks. Liftgates are essential to safely loading and unloading cargo for commercial trucks. The performance of these liftgates directly impacts the quality of work and potentially affects profits. Furthermore, a malfunctioning liftgate poses a severe job hazard, making the business responsible for any injuries or damage resulting from such failures.
Liftgate Repair Service, Overview
Trucks equipped with liftgates safely load and unload a variety of materials. The liftgate relies on a hydraulic system and an electric switch on the truck's exterior to raise and lower the heavy gate. With its capacity to handle loads weighing thousands of pounds, the liftgate is the preferred method for these tasks.
Maintaining liftgates is crucial for the longevity and safety of trucks. Over time, these liftgates endure significant wear and tear from lifting heavy loads. Unfortunately, many truck owners neglect the necessary maintenance, posing a risk to operators and businesses. A malfunctioning liftgate jeopardizes revenue and can result in severe injuries to the driver and work crew. Don't overlook the importance of proper liftgate care.
Liftgate Repair Benefits
It is crucial to ensure proper maintenance to keep yourself safe from the risks of a faulty liftgate. Entrust the task of maintenance and repairs only to qualified professionals who possess the necessary expertise and tools to carry out the work safely. The advantages of a reliable liftgate repair service are invaluable, as they prevent potential disasters from happening in the first place. Our sole purpose is to maintain the proper functioning of every liftgate, thereby eliminating any work hazards that may arise due to breakdowns or malfunctions.
Our team is well-versed in the various signs that indicate when your liftgate needs repair or maintenance. Some common indicators include excessive lurching during operation, unusual noises, fluid leaks, and poor performance. A properly functioning liftgate should move smoothly without jerking or stopping, and any delays in movement may signal an underlying issue. Trust us to identify and address these problems efficiently and effectively.
Liftgate Professionals
Need liftgate repair? Our team can quickly identify and catch common issues early to prevent significant problems. Whether it's an improperly installed liftgate or a malfunctioning hydraulic or electrical component, we have the expertise to diagnose and fix the problem accurately. Contact us now for a service estimate.
Liftgate Preventative Maintenance
Beat repairs to the punch. Keep your liftgate operating safely and efficiently with regularly scheduled maintenance. Reduce downtime and road calls with liftgate preventative maintenance from Ferguson Truck Center. We can develop an inspection schedule about your specific needs, providing service before breakdowns happen.