Unlock the secrets of servicing a diesel engine – it's easier than you think! Discover the key differences that make it both complex and convenient. Say goodbye to spark plugs and hello to the intricacies of the fuel system. Beware of even the smallest hint of water or dirt and stay ahead of machine troubles.
The Filter Trap
Keep your diesel engine running smoothly with our fuel system service. Our experts will ensure that your fuel supply line is always in top condition by frequently checking and draining the filter. Don't let water in your system cause engine misfires – make it a priority to regularly inspect and maintain a spotless fuel system.
Removing the Water
Quickly and easily check for water in your fuel filter by following these steps. First, locate the drain area designed specifically for this purpose. It can be easily accessed using a screwdriver. Simply unscrew and allow the water to drain. Keep a close eye on how much water is coming out, as it will indicate the integrity of your fuel system.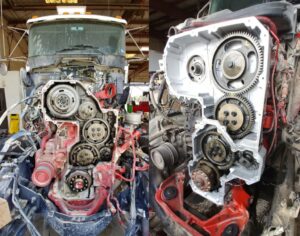 Remove Liquid from the Filter
Easily drain water from your filter with a simple wrench. Connect a hose and drain the liquid into a small jar. Keep emptying the jar until diesel fuel appears – a sign that all the water is gone. Reseal and get back on the road confidently.
The Canister Filter
Improve your engine's performance with this simple maintenance tip. Our filters come equipped with a convenient vent plug at the top, making draining a breeze. No need to worry about tightness – simply use your hands or grab a wrench for extra help. Don't worry if you're new to engine maintenance, this is a beginner-friendly task. Plus, we suggest adding a little fuel on the O-ring for a tighter seal. Keep your engine running smoothly with this quick and easy trick.
Fuel Filter
Before starting this type of engine service, it's essential to make sure everything is clean. The specific service you'll need will depend on the diesel engine you're working on. One option is to remove the entire filter and replace it entirely. Alternatively, you may be able to replace just a portion of the filter.
Bleeding the Fuel System
Achieve optimal diesel engine performance by keeping your fuel free of air and water. Our main service includes the essential task of bleeding the entire fuel system. Take advantage of our convenient hand-operated pump to manually remove any impurities. This method is highly recommended for maximum effectiveness.
Changing the Oil and Filter
Level up your diesel engine service with these easy tips! Just like a gas engine, regular maintenance is key. Discover the simple process of changing your oil with the right oil and filter for your make and model. Start taking care of your diesel engine today!
Replacing Your Canister Filter
Upgrade your diesel engine service with a simple technique! Instead of replacing the entire filter, save time and money by draining the fuel with a plug. Then, effortlessly remove the removable part of the canister. Boost efficiency further by fitting a fresh O-ring and carrying on with your regular maintenance routine.